Colorobbia, a manufacturer of glazes, colors and clays with the Colorobbia Art brand for almost a hundred years, makes ceramic "making" easy and accessible to all those who love to create, experiment, challenge themselves for fun, curiosity or to start a new profession.
In our "ready to use" product lines, anyone will find a wide choice, quality, versatility and ease of application.
The main feature of our Collections is their simplicity of use. We have formulated colors that, after being stirred, can be used in a few steps to decorate ceramic objects.
Colorobbia Art is aimed at everyone: professionals and beginners. With a great variety of products we have tried to offer a wide choice for all tastes and needs.
With Colorobbia Art colors, you can give free rein to your creativity every day! Learn, experiment and express the artist in you when you want and where you want! Discover our most famous collections.
Colors and fantasy
THE THREE MOST LOVED COLLECTIONS
Fairy Dust, Terrabella and Bellissimo!
Glazes are our most famous products, loved by both professionals and those who are approaching art and ceramic decoration for the first time. Three collections of varied and easy to use products, which differ from each other in the characteristics and finish of the colors. Discover them below and choose your favorite!
Brilliant nuances
bellissimo!glaze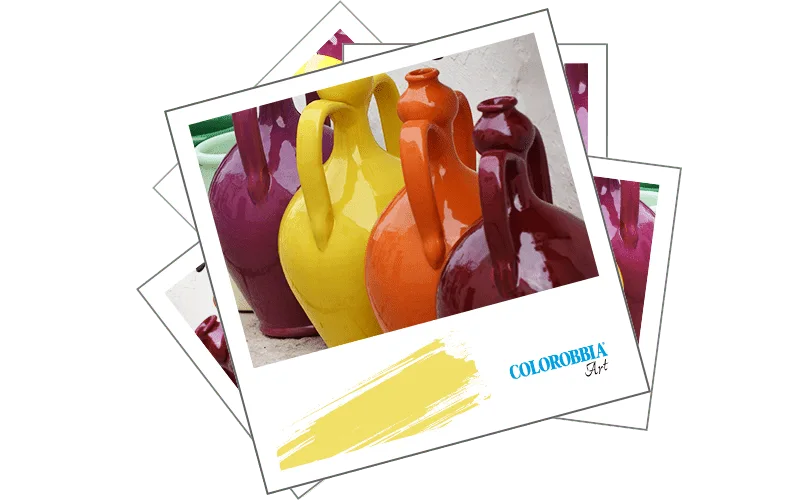 Bellissimo! Glazes are bright, intense and easy to use at all levels. Suitable for workshops, studios, ceramic cafes, workshops and schools. Suitable for all types of decoration: brush, drops, sponge, hand printing. They are also an excellent vehicle for those taking their first steps in ceramic decoration.
Preparation-application-firing
Shake well before use. Dilute with water if necessary. Apply 1 to 3 coats on bisque. For brush decoration, the transparent lead-free clear glaze HC-0004-D must be applied. Applying 3 coats of the product will add brilliance, which can also be further enhanced by treatment with the clear glaze.
Firing temperature 950 ° C-1250 ° C (Orton 08-7 cone).
Excellent even at high temperatures.
Sparkling colors
Fairy dust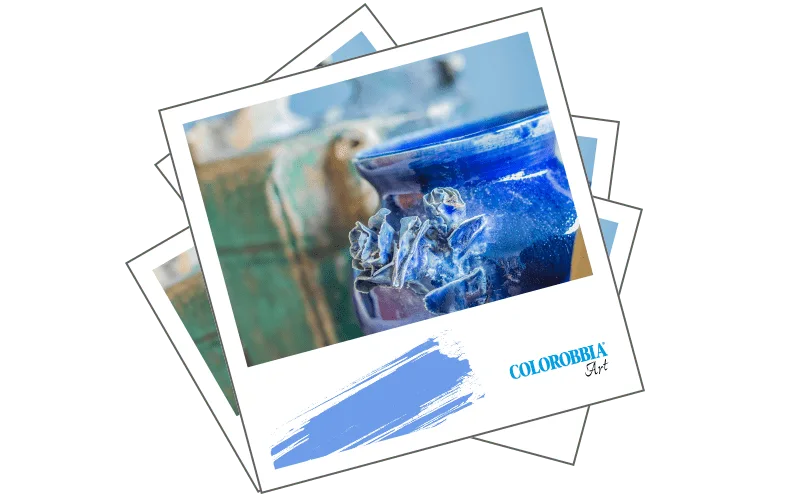 The Fairy Dust series adds a sparkling effect to any ceramic project.
Preparation-application-firing
Use 1-2 coats on each piece for best results. Using full coverage of the piece, Fairy Dusts do not require application of clear glaze.
They can be used in combination with other series such as Bellissimo! Glaze or Engobbi (Slip).
The "Dust" inside the product is very contaminating so we suggest using dedicated brushes. Fairy Dust are non-toxic, lead free and "Food Safe." The packaging is 8 oz. (236 ml).
Nature in colors
TERRA BELLA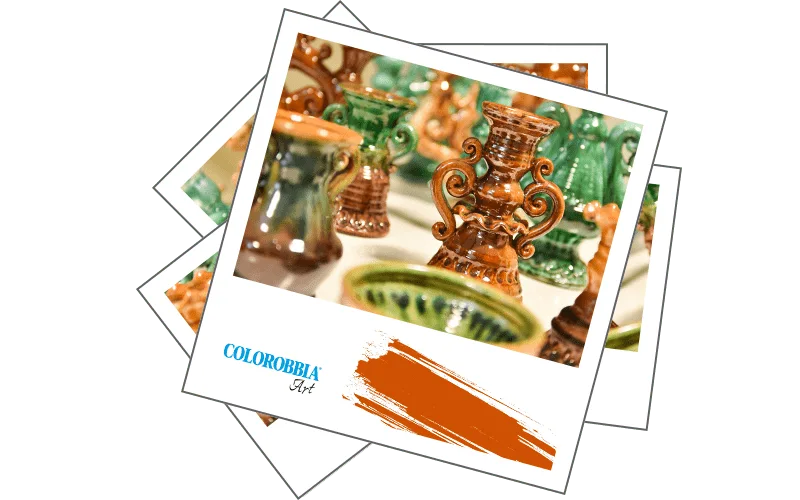 The Terra Bella line is made up of unique colors inspired by nature. Each of these colors has a unique texture. Their appearance varies from very bright to a matte/satin finish.
Preparation-application-firing
This line can be used in perfect harmony with the other Colorobbia colors to obtain more emphasized results. To obtain unique colors and effects, simply layer the color and no work of art will be the same as the previous one. Terra Bella is excellent for obtaining shiny ceramic work even at low temperatures.
The series consists of 23 colors, plus 4 unique "Aventurina" colors, which are formulated to be applied over and under other colors, to enhance, change and create amazing effects. Terra Bella colors are non-toxic, available in two 4 oz. and 16 oz. sizes and "Food Save."
Not just colors
EVERYTHING YOU NEED TO MAKE ART
Discover all our products that help you create a beautiful work of art.
To create a perfect ceramic work, along with a wide variety of colors, tools, kiln and machinery, clay and bisques are also indispensable. Colorobbia Art, as a brand, offers a wide choice of these products, perfect for all needs and different working methods.
Lathes, machinery and mixers are part of the selection of Colorobbia Art products dedicated to professionals. These are machines designed specifically for those who are experts in ceramic art and wish to complete their laboratory.
No art set is complete without specific tools and brushes. For this reason, we have also chosen to create a special line of brushes of various sizes and types and tools to allow you to complete all your work of art.
Century Collection box: convenience that pays off! Choose your box, your favorite colors and products and take advantage of the economic convenience of this option. Buy your Century colors with a click and at an exclusive price!
A rainbow of colors
CENTURY COLLECTION
A new sparkling collection of colors to celebrate Colorobbia's hundred-year anniversary